Brothers and Sisters incest ?
As reported previously, the writers are developping a storyline involving Justin and Rebecca romantically.
Here is what Kristin had to say about it :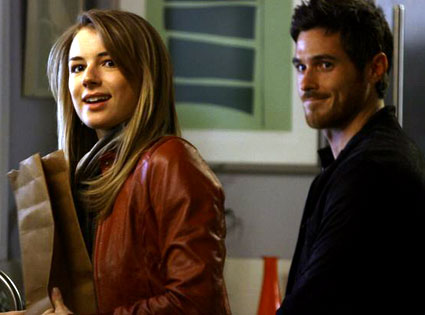 "Incest is best, put your brother to the test—if the following conditions apply:
Your brother happens to be the ridiculous hotness of a man that is Justin Walker/Dave Annable

He's not exactly necessarily your brother per se
It makes for really good TV
This seems to be the line of thinking over on ABC's Brothers & Sisters these days, as the producers and writers are delving into what they call a "tightrope kind of story": A possible love connection between Justin and the girl he currently believes to be his illegitimate half-sister, Rebecca (Emily VanCamp).
It all sounds so very sudsy and sensational and, well, Springer-esque, does it not? (Especially given that David and Emily have been romantically linked in real life.)
Thankfully, though, I can allay your fears! I just had a nice, intimate chat with show runners Alison Schapker and Monica Breen, who oh-so-kindly (bless them!) called to correct me that Brothers & Sisters will have 24—not 27—episodes next season. (Still good news, right? And my sincere apologies for the error.)
Anyway, after talking to these lovely girls and also inside sources about what lies ahead for Justin and Rebecca, I feel confident in telling you this: B&S fans should not worry. It's gonna be good.
"People are so scared of Rebecca and Justin's storyline," Schapker admits. "Even we were at first, because it is a tightrope kind of story. But I have to say, I have 150 percent faith in the storyline after seeing how it's being executed." Breen seconds that confidence: "We are so thrilled with the way that storyline is going to progress."
Take note though that the writers have a few tricks up their sleeves. "I think it's fine for people to start thinking 'OK, what does this mean?' because they don't know how it's going to unfold. They think they know, and it's going to be better than they imagine."
As for what else we can expect from the new episodes, Schapker explains that because of the strike, "It's eight episodes condensed into four, so we just had so much to draw from for these last four. These four episodes sort of feel like three season finales leading up to one really big season finale...I have to say, we're so proud of these episodes. We don't feel like we suffered from the strike at all. They are 10 times better than we ever imagined."